This is a hostile structure and I will cry about it
Vic Barquin
2/5/2023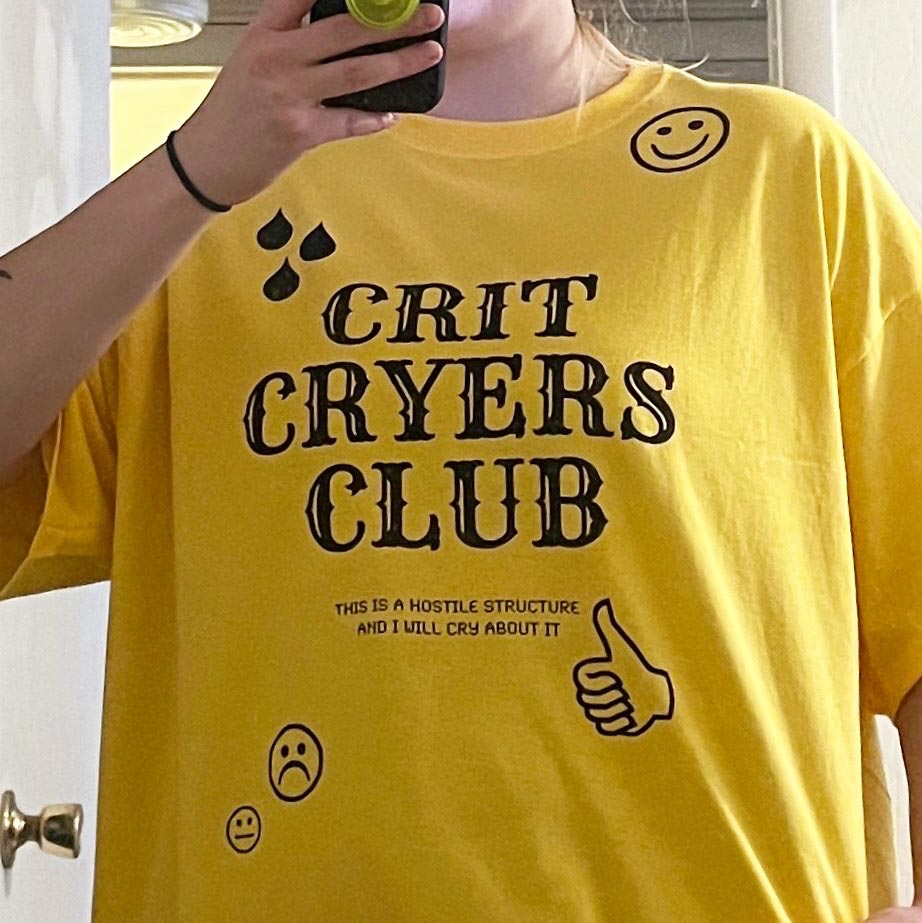 I had never met him before that day. When he introduced himself nicely, I thought maybe we would get along. After all, I was showing mostly paintings—his favorite medium.
This wasn't the first time I walked away from a critique feeling bad about myself and my work. Even so, that didn't change the pain. The sting of being un-understood never wears off, it always burns deep.
Surprisingly, I actually felt somewhat confident that day. I produced a lot during the semester and I was excited about where the work was going. It was the first time in graduate school that I felt as if my conceptual interests and formal choices were starting to align.
I sent out a statement ahead of the critique and I read it aloud to begin. He was the first one to take up space. He chose to ask one of my questions back to me. It was patronizing so I repeated it back to him. He continued to undermine me by comparing the color palette of my work to a sorority girl's closet.
As students, we are told to command the room. We are told that these critiques are for us and that we have the power to direct them in constructive ways. However, this can only be true if faculty members respect our decisions and have enough self awareness to check their ego before saying something that does not have the students best interest at heart.
I tried to take control that day but he didn't want me to. He did not meet me with care and empathy; rather, he chose to be combative. He pushed back on me pushing back. He showed his true colors as a harsh traditionalist who couldn't be less interested in moving towards progress.
I don't remember how far I made it into the critique before I was holding back tears. I did everything in my power to not let my faculty see how I cried. I got up for my water bottle and a bandana my friend had given me. I really thought I could get through those forty minutes as long as I had these two things—an absorbent surface to blot my tears and a vessel to replace the liquid my body was losing. I even told myself that it was okay that this was happening, that it was normal behavior to cry. But then my breathing went. Three jumpy half breaths in, three stuttering exhales back out. It was loud and embarrassing. I couldn't talk. All I could do was think about how to get my breathing under control. As I lost it entirely, I noticed that the conversation had turned towards encouraging feedback. I understand that this would be a natural response to seeing a student break down before your eyes, but in actuality it felt like they were only being nice to me because I had failed. I had proven to them that I couldn't take the heat and so they had no choice but to lighten up. It felt like pity.
Between snotty breaths, I asked to end the crit early. I ran to the bathroom and cried audibly in the stall. Eventually, one of my friends entered the bathroom. Their warm voice called to me and I exited the stall to find comfort in their arms. When the coast was clear, we returned to the gallery to grab my belongings. I could feel the distaste in my own work forming. It was hard to look at the things I was proud of just hours prior.
In my peak post-crit feelings of defeat, I questioned why I make art and why I chose to come back to school. I should have known that I wasn't cut out for this. I wasn't conceptual enough. I wasn't research-based enough. I wasn't even intuitive enough. I thought about how these faculty members would go on to think of me as a hysterical softy who had no chance of making it in the cutthroat art world. Sometimes I still worry about this, but also I don't think the cutthroat thing is for me. I want to be against conniving competition and combative commentary in the name of constructive criticism. The hostile format of critique does nothing but snap me in half into two uninspired pieces. It does not encourage me to do better, to think about things I hadn't considered. It is an outdated structure based on spewing doubt at the artist. It is not centered in trust or love for the student.
A few weeks later, I designed and screenprinted a tshirt about my experience. It was surprising to see how many people resonated with the design. While extremely validating, it was also more depressing to know how pervasive this story of crying in crit was. Why are institutions prioritizing toughness? Who is this experience for? I want to believe in an alternate reality where we can all put a soft foot forward and meet each other with kindness.
Until then, I'll be crying in crit.
︎
Vic Barquin
(she/her)
is an artist, printmaker, and arts administrator from Cranbury, New Jersey. After graduating with a BFA in Printmaking from Massachusetts College of Art and Design in 2016, she moved to Chicago where she facilitated events and exhibitions as part of her studio practice. In 2019, she founded Halftone Projects, a collaborative publishing program which she ran out of her second bedroom turned screenprinting studio. Vic is currently pursuing an MFA in Studio Art at the University of Arkansas in Fayetteville.